| | | |
| --- | --- | --- |
| | Building Multiple Diskless Server Failover and Load Balance | |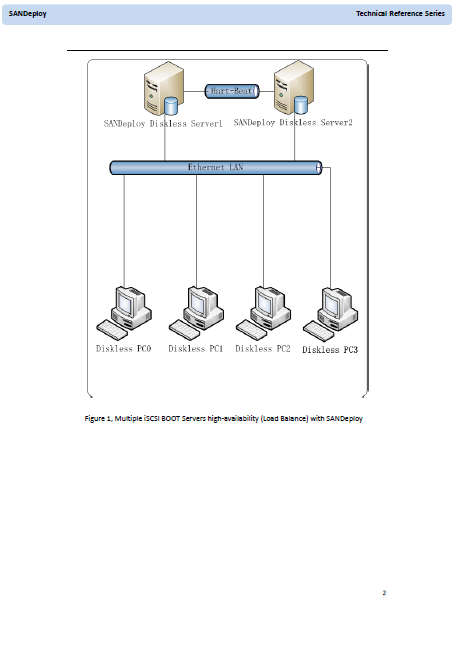 From SANDeploy Boot Server 3.0, its enterprise version supports high-availability (failover or active-active) and load-balance features, which means user can use two or more SANDeploy Boot Server to build high-availability (failover or active-active) and load balance servers. High availability and failover diskless boot is very important feature for this period of industry, by using only one server, once the server is down or any hardware/software damaged, the business will be stopped. While by using high-availability (failover), one server is stop working, another server will take over the working and continue offer service to clients, SANDeploy Diskless boot failover support hot swapping, which means all online client can dynamically switch to another server if current server is stopped working.
SANDeploy Diskless boot server also support load balance, many clients boot from multiple servers, SANDeploy Diskless Boot Server allows half of clients boot from one server and another half of cleints boot from another server, which will reduce the pressure on the diskless server.
This document gives users detailed step-by-step instructions on configuring SANDeploy High Availability (Failover) iSCSI Boot SAN and Load Balance for diskless boot.

Click here to download this paper.