| | | |
| --- | --- | --- |
| | Using SANDeploy iSCSI SAN for Windows Server 2008 Cluster | |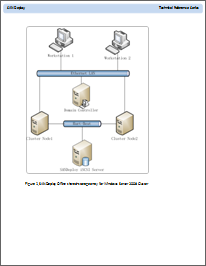 High-availability clusters (also known as HA Clusters or Failover Clusters) are computer clusters that are implemented primarily for the purpose of providing high availability of services which the cluster provides. They operate by having redundant computers or nodes which are then used to provide service when system components fail. Normally, if a server with a particular application crashes, the application will be unavailable until someone fixes the crashed server. HA clustering remedies this situation by detecting hardware/software faults, and immediately restarting the application on another system without requiring administrative intervention, a process known as Failover. As part of this process, clustering software may configure the node before starting the application on it. For example, appropriate file systems may need to be imported and mounted, network hardware may have to be configured, and some supporting applications may need to be running as well.
This document gives users detailed step-by-step instructions on configuring SANDeploy iSCSI SAN for Windows Server 2008 or Windows Server 2008 R2 failover clusters. Failover clustering needs two or more computers use a few external storages such as iSCSI disks. With SANDeploy, you can quickly create a series of shared disks for clustering.

Click here to download this paper.