| | | |
| --- | --- | --- |
| | General Configuration | |
Right click on the SANDeploy iSCSI SAN tree node on the left tree of SANDeploy Management Console, the SANDeploy iSCSI SAN Properties dialog appears.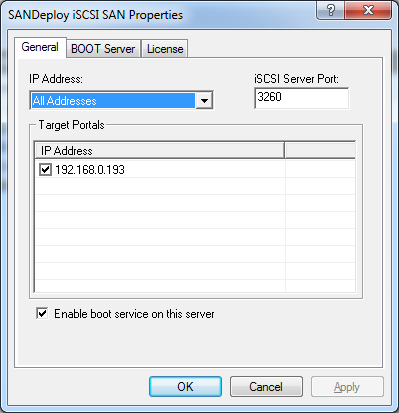 1. iSCSI Target Bind
In the General page, user can select one IP and specify a port to be used by SANDeploy Server TCP/IP service binding. Any indicate binding all Ethernet interfaces. By default, iSCSI port is 3260.
2. Target portal address list
These IP addresses in the list will be sent to initiators during send targets of discovery phase, user can also modify the target portal address list and disable some unusable IP addresses in the Target Portals to get a little better performance while initiators logon.

3. Determinate if the PXE boot server is enabled
User can check Enable boot service on this server to start PXE boot server, otherwise the boot server will not be started.
Press the Apply or OK button to save settings.